HP-24 Project
Update 21 June 2005: Chick-a-boom-boom-boom!
KFOG had the guy from Mocean Worker on the radio this morning, and he did a live version of his top-40 hit. Or at least as live as you can get when most of the thing is assembled out of various samples. But I did like the way he got the KFOG morning crew to sing the chorus with him. Chick-a-boom-boom-boom!
Last weekend I got in 1.5 shop days, and managed to get the fin spar plug and the push-pull tube guide support plug ready for molding. The fin spar has gotten a lot of coverage so far, so the photos don't show anything new except that I've added the platforms that will form the flanges of the mold.
The guide support is a generic little pyramid that will support the guide for the control push-pull tubes. The support has a saddle in the top for the 1.25" OD aluminum tubing of the guide, and will have its base cut off at various heights for the different locations. We'll just glass these things to the inner surfaces of the wings and fuselage wherever we need them using fiberglass tapes. I made the plug for the support out of fiberboard using a 1.25" spade drill and a bandsaw over the last few Wednesdays, and now have them shaped, sanded, varnished, platformed, and waxed for molding.
On Sunday afternoon, I got some new rock climbing gear for Father's Day, so we went exploring out by Spicer Reservoir for a place to use it. We bushwhacked through the forest to a cliff I'd seen from the road. On closer inspection it looked like a neat place to get in some first ascents, but on the whole I think I'd rather just drive to Yosemite and climb there.
Here's the latest pictures:
These two photos of the fin spar plug show how I've added the 1/8" masonite flange platform. Note also that I've added a temporary platoform at the upper aft corner, where the fin spar becomes the fin tip rib. It's just held on with PVC foam chocks and hot-melt glue. After I've done the first mold portion, I'll break away that temporary platform and them wax and mold the tip rib area. That yields a 2-piece mold that will allow the release of this complicated part. Also note that I've inserted a pin and bushing into the lower rudder hinge support. The pin will be removed later; the bushing will become part of the mold. In production, I'll drill through that bushing to get a perfectly-aligned lower rudder hinge axis.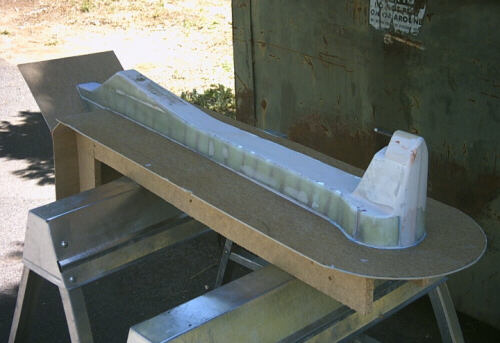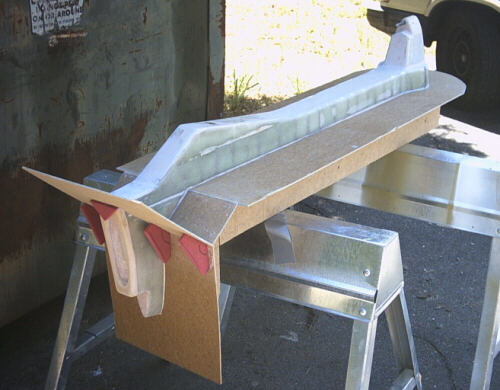 These two photos show the PP tube guide support. The second photo shows how the guide fits into the saddle at the top of the pyramid. Again, the platform is just waxed Masonite.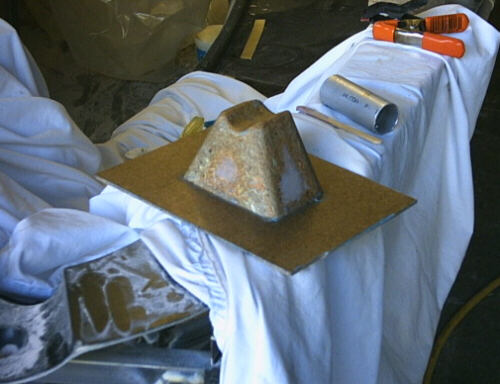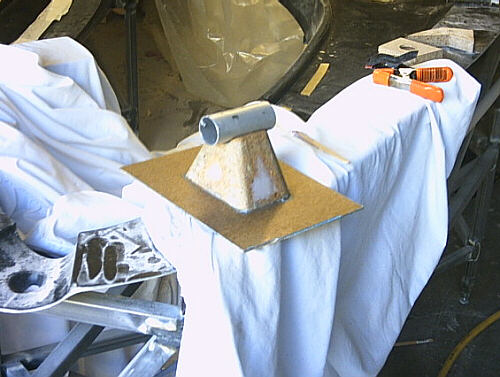 ---
page updated 21 June 2005 all text and graphics copyright (c) 2005 HP Aircraft, LLC