HP-24 Project
Update 30 October 05: More Trussery
The weekend of 29 and 30 October 2005, we had Doug Gray up to help with the work on the wing mold trusses. On Friday, Doug and I loaded up the truss jig and also the two semi-finished trusses that I'd done at Steve's garage and drove up to the house. Of course, we also loaded up the nice little Hobart MIG welder and also my cheap grotty Harbor Fright chop saw.
On Saturday morning, Doug and I hooked up my extra glider trailer (the one I'd bought to cart the wing plugs all over the countryside) with about 500 lbs of 1" and 3/4" square steel tubing and headed up to the shop.
I'd gotten lucky with the steel tubing. I managed to find, in Modesto of all places (Let's hear it for George Lucas's hometown!), a steelyard that not only had a great price on the sizes I needed, but also had a delivery truck that ran up Highway 4 on Tuesdays and Thursdays. So on Wednesday afternoon I'm calling around for prices on steel, and Thursday morning there's a great bloody pile of the stuff in the driveway!
So, anyhow, Doug and I loaded this stuff into the trailer that I'd got from Joe Patton's widow and headed up to the shop. And by the end of that day we had chopped out most of the parts for the full set of eight trusses, and had also finished off about three and a half full trusses. Doug was mostly cutting and finishing the tubes while I was welding, and also help to turn and flip the trusses as I finished welding parts of them.
On Sunday we re-convened at the shop, a bit earler than I'd expected because (as usual) daylight savings time had caught me by surprise. And by about 2 pm that afternoon we'd finished cutting, jigging, tacking, and welding all eight wing mold trusses.
So, that's it for that huge job - it all boiled down to about a day and a half of teamwork.
Probably the next thing to do is to make the forward-fuselage half I need to develop cockpit and wing junction and landing gear internals, and then the fuselage molds go off to Brad Hill's shop for production. And that clears the floor space that I need to do the wing mold layups. At about that time, I'll join pairs of wing mold trusses together with chords and diagonals (of steel tubing) to finish off the space frames that support the wing mold shells.
Here's the pictures:
Doug chops out another of the truss diagonals.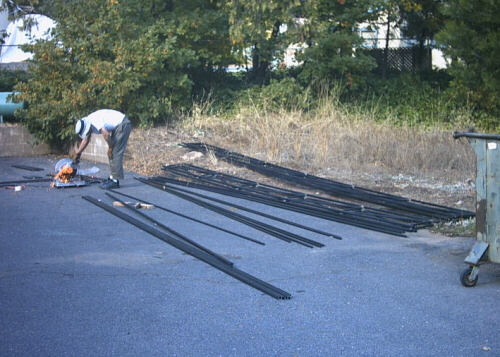 This is what we'd finished when we knocked off on Saturday afternoon. As you can see, we've finished three full-length trusses in addition to the two shorties that I made at Steve's to figure out that MIG welding stuff.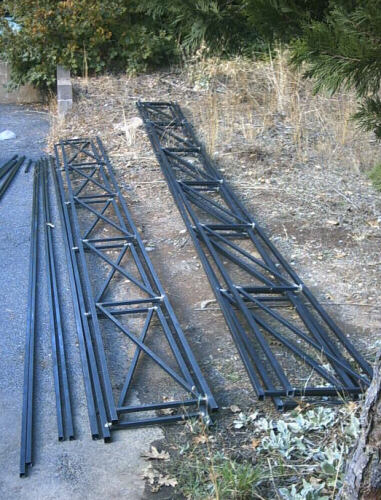 And here's how we started on Sunday morning, with a brand new load going into the jig.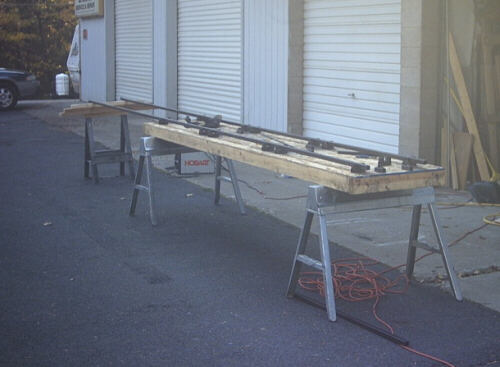 Here Doug resets the miter angle on the chop saw to switch between the different angles required for the various pieces.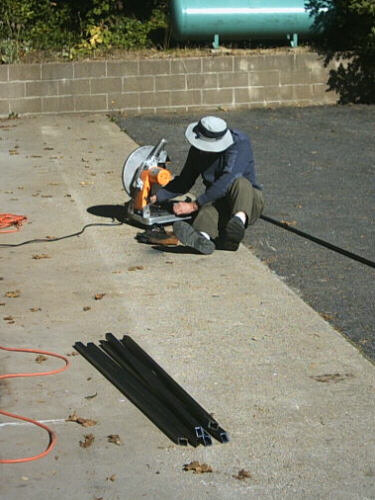 And here's how we finished on Sunday afternoon. You can see that we've got eight full-length trusses, and a bunch of leftover material that I'll use to join the pairs of trusses into space frames.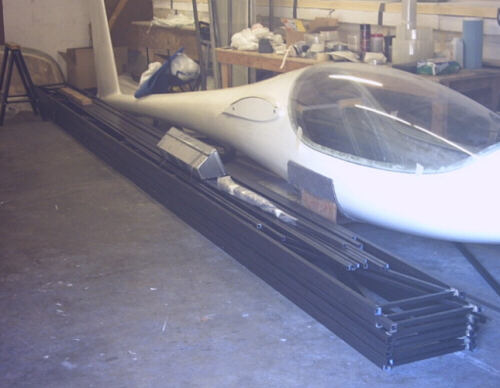 ---
page updated 30 October 2005 all text and graphics copyright (c) 2005 HP Aircraft, LLC